Welcome to "Transforming Impact"
Each month, we share insights about industry trends, resources for building a sustainable business, and opportunities to enrol in programmes and community groups to support your next STEPS towards your goals.
---
This Month's Focus is on PROFESSIONAL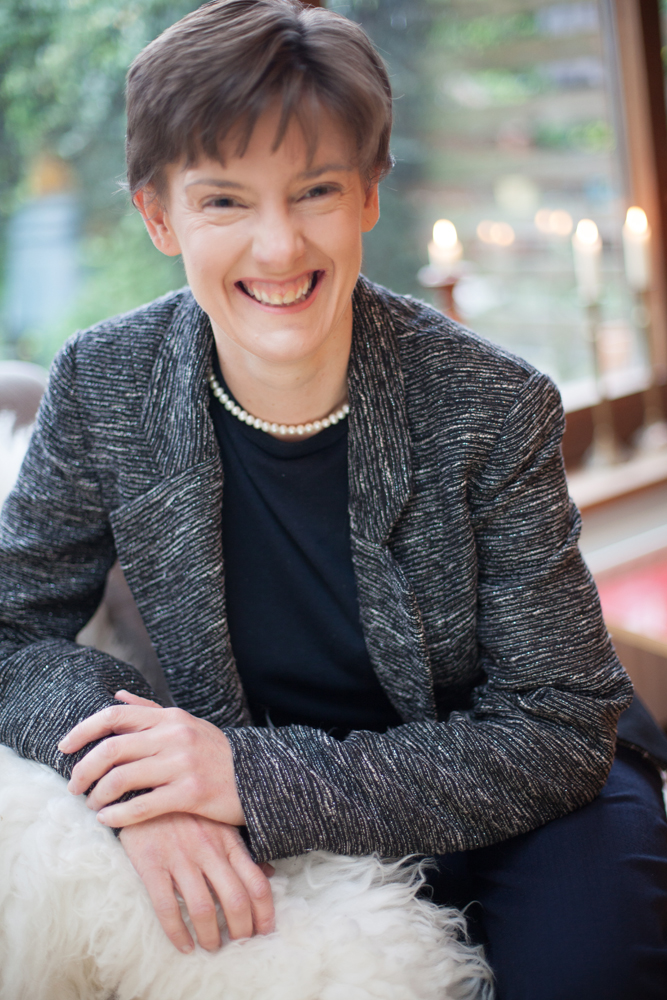 November is a transition month. Between Autumn and Winter. Between Hallowe'en and Christmas. The clocks have gone back, the nights are getting longer and the weather is getting colder. The Christmas lights that brighten up the darkest nights in December haven't yet been lit. And yet, November is one of the best planning months of the year. It is full of (as yet unrealised) potential.
Eligible pharmacists with a non-EU pharmacy qualification have sat the PSI Equivalence Examination, but have yet to receive the outcome.
Pharmacists selected for Practice Review in October have completed their review but haven't received the outcome.
Pharmacists selected for ePortfolio Review 2018/2019 and Practice Review in April 2019 have been notified, but haven't yet been reviewed.
Pharmacy Graduates have completed their Pre-Registration Exam but haven't yet come onto the Pharmacy Register.
Pharmacy Owners and new graduates alike eagerly await new blood on the pharmacy register, so they can fill pharmacist vacancies.
Pharmacy Owners are preparing to hire additional customer service staff in anticipation of increased demand during the Christmas Season.
As the end of the year draws to a close, we prepare to tie up loose ends such as
Annual re-registration with the PSI

Completing our CCSAT and recording our CPD in our ePortfolio

Ensuring the Pharmacy Assessment System is completed and actions taken to address 'gaps' identified

Inducting new staff and training existing appropriately

Reflecting on the past year and planning for 2019.
At 4Front, we have been incubating too - incubating resources to help you easily and efficiently tie up your loose ends and review your past year - what has worked, what has not worked so well and plan what you are going to do differently next year.
Read on for quick and easy ways to
up your game,

cross your professional T's and dot your I's,

build your knowledge and skills (and that of your team) and

finish strong for 2018.
We're here to make things clearer and simpler, so you painlessly move things off your 'good intentions' list into your 'in progress' or 'completed' folder and focus your attention on what is truly most important to drive the results you want.
Be sure to let me know which resonates most with you.
Rachel
---
Called for ePortfolio Review 2018/2019?
Is this you?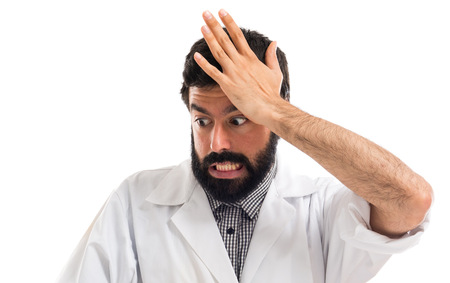 There is SSSOOO much on your plate right now, be it personal factors, professional tasks and/or business threats or opportunities. Life is busy. Just getting your head around recording all the CPD you do is daunting. You wonder if what you do even counts as CPD.
If only you had a simple way to get the head space, stop procrastinating and cross it off the 'to do' list, the peace of mind would be worth its weight in gold.
If this is you, help is at hand. CLICK HERE to find out more about 4Front's CPD Mentoring Service.
---
FREE Webinar Series: How to Perform at Your Best During Pharmacy Consultations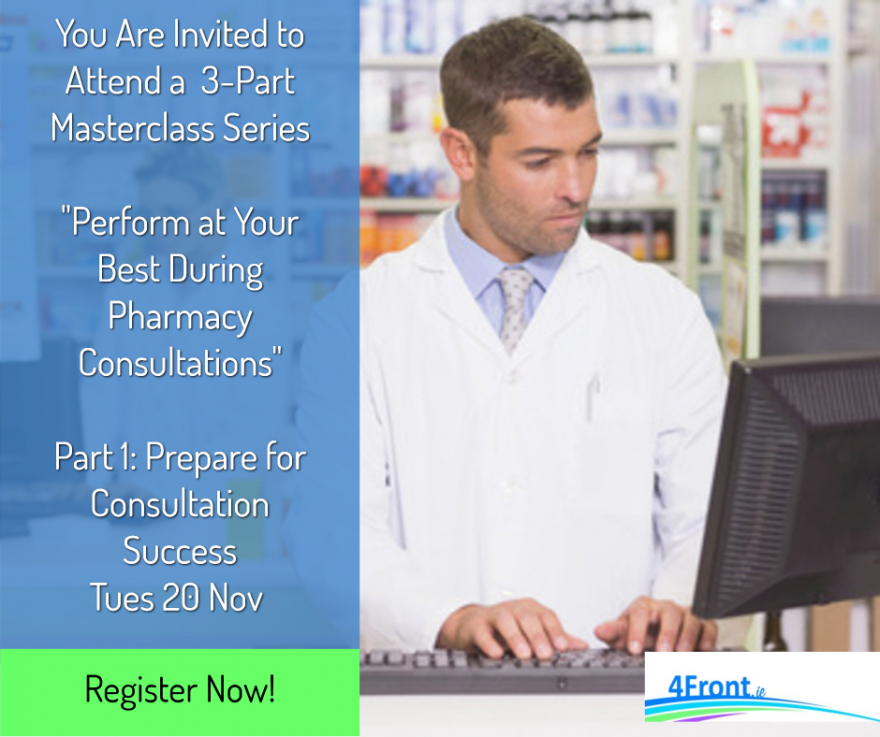 4Front's next 3-Part Online Masterclass Series 'How to Perform at Your Best During Pharmacy Consultations' starts on 20 November. Because it is sponsored by Pharmaconex, the entire series is free for pharmacy registrants.

Part 1 - Tues 20 Nov 1930-2030
Part 2 - Tues 27 Nov 1930-2030
Part 3 - Tues 04 Dec 1930-2030
This will particularly appeal to you if you have ever
Worried

about how your performance may be judged by others
Dreaded the very thought of a difficult conversation with a customer or colleague
Wished that you had effective

strategies

to help you appear confident, especially when you feel 'put on the spot'
It will be even more relevant for you if you are:
Called for IIOP Practice Review

Returning to work as a patient-facing pharmacist after a leave of absence

Preparing for OSCE-style assessments

Shifting from being primarily dispensary based to being primarily focused on pharmacy-consultations

Looking for additional ways to demonstrate your value in your pharmacy-consultations
CLICK HERE to register - Certificate of Completion available for those who attend live and complete feedback
---
NEW eLearning Website for All Pharmacists and Pharmacy Team Members
Free Registration for all users who sign up for Launch Notification during November and December.
CLICK HERE for a sneak preview of the beta-mode of www.4frontpharmacy.ie where you will discover the six online course categories, designed to support you and your team to improve health outcomes, create lasting relationships and build business revenue and support compliance with PSI Guidelines on the Sale or Supply of Non-Prescription Medicinal Products from a Retail Pharmacy Business 2018. New courses, simulated consultations, webinars and practice tips every month. Launching in 2019.
---
Health and Wellness Coaching Community of Practice
Save the Date -- Fri 30th Nov with Drs James and Janice Prochaska
Changing unhealthy behaviours is easier said than done. Finding the answers to help people do just that has been the life's work of Drs James and Janice Prochaska. So, if you have ANY interest in either changing any of your own unhealthy behaviours or supporting your patients to change behaviours such as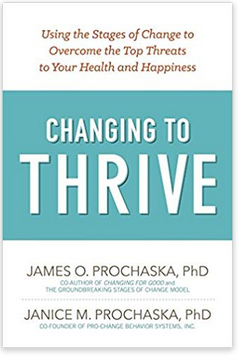 not moving enough,

unhealthy eating habits,

smoking,

drinking alcohol to excess,

being an adrenaline junkie or

putting everyone else's needs first to the extent that you burn-out
you will want to attend this session of the International Coach Federation (ICF) Health and Wellness Community of Practice. I am honoured to co-lead this Community of Practice and our next live webinar session is on 30th November 2018 at 5pm. CLICK HERE to register
---
Next STEPS Strategy Session
Are you considering hiring a coach to support you on your personal, professional and/or business development journey? Not sure if this is the right step for you? Stop wondering! Find out! Click here to schedule a 40-minute, complimentary, "Next Steps" Strategy Session with Rachel.
---
Connect with Rachel
4Front Founder, Rachel Dungan is a Pharmacist, Trainer and Professional Coach. She has over 20 years experience in hospital and community pharmacy. Her passion is empowering pharmacy leaders and their teams to be and do their best. You may recognise Rachel as an IPU Academy Tutor, IIOP Peer Support Pharmacist or Webinar Facilitator. Contact Rachel at 086 602 5584 Email: rachel@racheldungan.com