Welcome to "Transforming Impact"
Each month, we share insights about industry trends, resources for building a sustainable business, and opportunities to enrol in programmes and community groups to support your next STEPS towards your goals.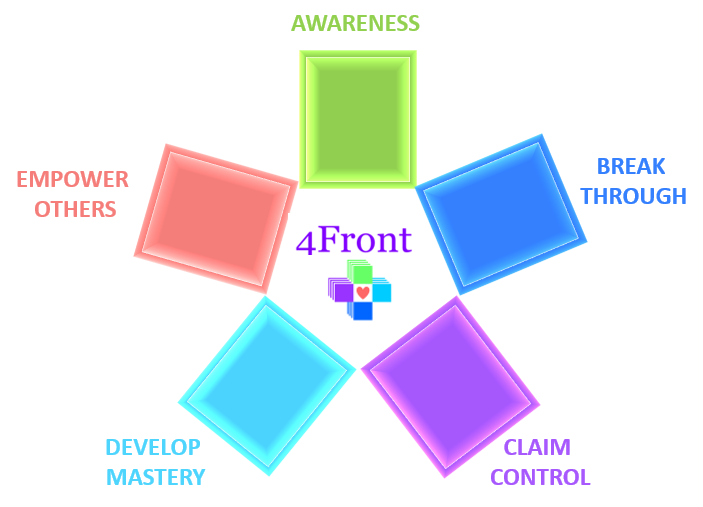 ---
Celebrating ICF Ireland Executive/Leadership Coach of the Year 2018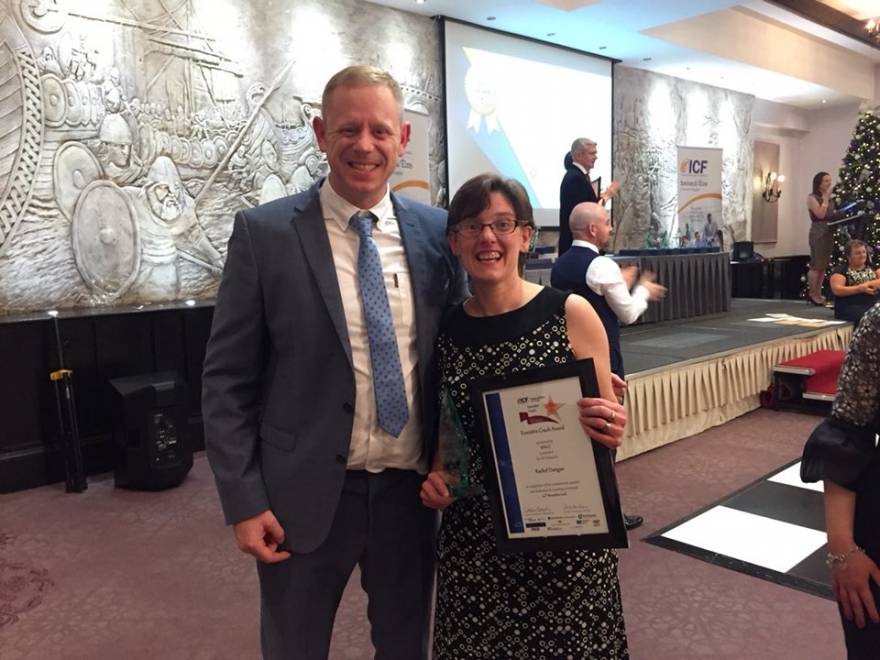 On 24 November, I was honoured to be presented with the award of ICF Ireland Executive Coach of the Year by World Business & Executive Coach Summit CEO Benjamin Croft.
Of the finalists in the Executive Coach Category, the judges said 'The demands of an executive coach are varied and can be complex, depending on the tri-party contractual arrangements. According to the judges, 'the strong sense of professionalism and the consistent drive for excellence and innovation means clients and sponsors are served with a very high standard. The judges were delighted to see an emphasis on supervision by the shortlisted candidates'.
Sometimes people ask me why I have left community pharmacy. My answer is that I absolutely have NOT left pharmacy. I believe so much in pharmacy that it has been my privilege over the past number of years to coach pharmacy leaders and their teams to reignite their passion for pharmacy, create a compelling business vision, get buy-in from their staff and execute effectively.
I sometimes have to pinch myself, because it is so rewarding to witness, in my clients, the evidence that pharmacist-led teams, with powerfully communicated values, vision and services not only deliver tremendous value, but also enable stakeholders to see, value and recognise pharmacists as the extraordinary resource they are as medicines, public health and wellbeing leaders, in each and every community in Ireland.
Through being willing to go on their own personal, professional and business development journey, they become courageous leaders who go first - leaders who, by example, inspire their team to transform their businesses and the lives of the customers and communities they serve - no excuses.
To my pharmacist colleagues - you are the person who is the pharmacist. You are a key person at the heart of PERSON-centred care. Take the time to identify and take care of your own needs. Sounds easy, but this is not a 'one and done' piece of advice.
It is a lifetime journey from awareness, to breakthrough, to claiming control, to demonstrating mastery and using this enhanced awareness and mastery to empower others. The willingness to take this journey makes you a better pharmacist in a multitude of ways.
To my clients - you inspire (and demand of me) to continually grow and develop my leader within. Onward and upward!
To my team - you work (largely behind the scenes) to turn ideas into reality. One person can achieve so much, but together, we all achieve so much more than any of us can alone. I very much appreciate your contribution, passion and dedication. Thank you.
To my incredible, talented family, who prove that spouses and children are highly capable to cook, clean and care for themselves and each other when their wife and mother is caring her colleagues, clients and patients …. The ripple effect of their capability runs deep. My family make it possible for me to do what I do. I thank them. I am proud of them. And I know my clients, colleagues and their teams and customers appreciate the sacrifices they make, because they know the work we do has a transformative ripple effect, not only throughout pharmacy, but throughout healthcare and the communities and families we serve.
So, as 2018 draws to a close, consider your step up for 2019. What are your goals and dreams, for your family, for your profession, for your business?
Who do you choose to become to be the person
W

ho achieves these goals and dreams?

Who inspires others to achieve theirs?
What do you need to delegate in order to do work of higher value? Who will support you on your own journey of transformation?
Below are some powerful resources to enable you to further empower your team, free up time and bridge the intention-implementation gap.
May I wish you a powerful, intentional end to 2018 and a fulfilling and prosperous 2019, filled with courage, wisdom and sincere connection.
With much appreciation,
Rachel
---
Pharmacy Skills Training
FREE Whole Team OTC Training and more..... Be one of the First to be Notified when NEW Pharmacy Training Platform Launched
CLICK HERE to watch a 90 second video and to pre-register you and your pharmacy team for www.4frontpharmacy.ie where you will discover six online course categories, designed to support you and your pharmacy team to improve health outcomes, create lasting relationships and build business revenue.
---
Performance Management
As the December Pharmacy Assessment System deadline looms, do you want:
To feel engaged in a

valuable, creative, collaborative process

rather than a solo, tick-box, energy draining, repetitive task?
The

certainty and peace of mind

of knowing the pharmacies for which you have responsibility have

completed a peer-led, professional assessment?

To

acknowledge practice excellence

and

continually improve the service

you provide?
To

benchmark

your current performance, to inform strategic decision making for 2019?

JUST GET IT DONE!?

Introducing . . . 4Front's Pharmacy Onsite Assessment

the perfect solution, especially if you want an objective peer partner to help you with this review. Click here to learn more.
Each year you must complete a review of the performance of your Pharmacy against PSI standards, using the Pharmacy Assessment System before you re-register your pharmacy. Then you must confirm in the annual declaration to the PSI that you have done so.
Would you like to take the worry and hassle out of this regulatory compliance issue?
especially if you just don't see when you are going to get the time
between now and Christmas to just get it DONE.
---
Professional Development for Pharmacists
FINAL SESSION in the FREE Webinar Series: How to Perform at Your Best During Pharmacy Consultations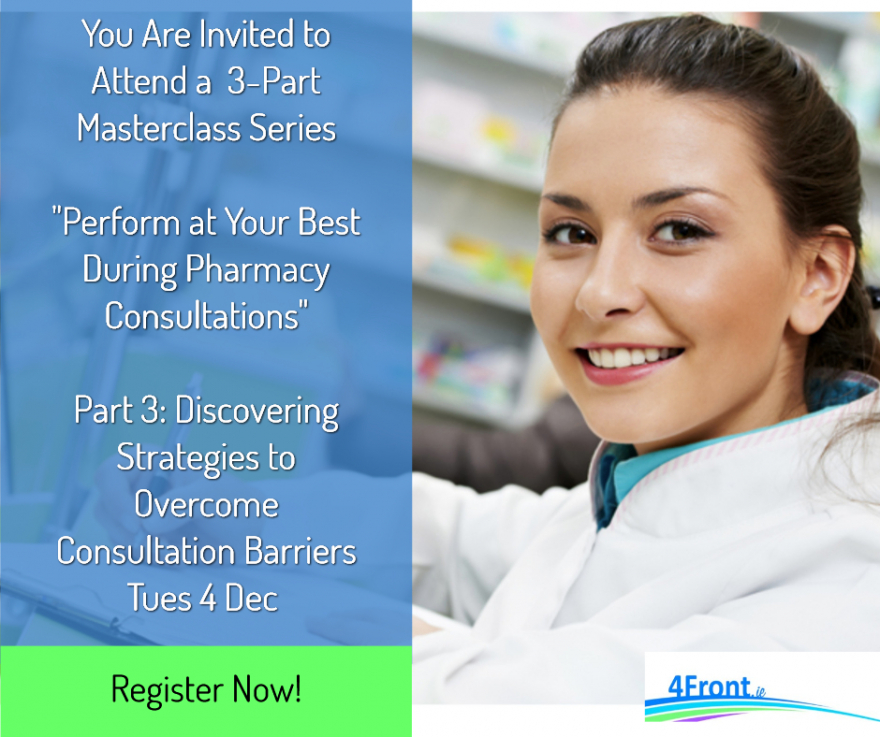 4Front's final 3-Part Online Masterclass Series 'How to Perform at Your Best During Pharmacy Consultations' is on 4th Dec. Because it is sponsored by Pharmaconex, the entire series is free for pharmacy registrants. Give the Gift of Success to Your Team in December!

Part 1 - Tues 20 Nov 1930-2030
Part 2 - Tues 27 Nov 1930-2030
Part 3 - Tues 04 Dec 1930-2030 - Dealing with Difficult Customers
This will particularly appeal to your team members if they have ever
Dreaded the very thought of a difficult conversation with a customer or colleague
Wished that they had effective

strategies

to help them appear confident, especially when they feel 'put on the spot'
It will be even more relevant for your team members if they are:
Called for IIOP Practice Review

Returning to work as a patient-facing pharmacist after a leave of absence

Preparing for OSCE-style assessments

Shifting from being primarily dispensary based to being primarily focused on pharmacy-consultations

Looking for additional ways to demonstrate your value in your pharmacy-consultations
Share this Link with them to register - Certificate of Completion available for those who attend live and complete feedback
---
Personal Development
Next STEPS Strategy Session
Are you considering hiring a coach to support you on your personal, professional and/or business development journey? Not sure if this is the right step for you? Stop wondering! Find out! Click here to schedule a 40-minute, complimentary, "Next Steps" Strategy Session with Rachel.
---
Connect with Rachel
4Front Founder, Rachel Dungan is a Pharmacist, Trainer and Professional Coach. She has over 20 years experience in hospital and community pharmacy. Her passion is empowering pharmacy leaders and their teams to be and do their best. You may recognise Rachel as an IPU Academy Tutor, IIOP Peer Support Pharmacist or Webinar Facilitator. Contact Rachel at 086 602 5584 Email: rachel@racheldungan.com