Welcome to "Transforming Impact"
Each month, we share insights about industry trends, resources for building a sustainable business, and opportunities to enrol in programmes to support your next STEPS towards your goals.
---
A PERSONAL NOTE FROM RACHEL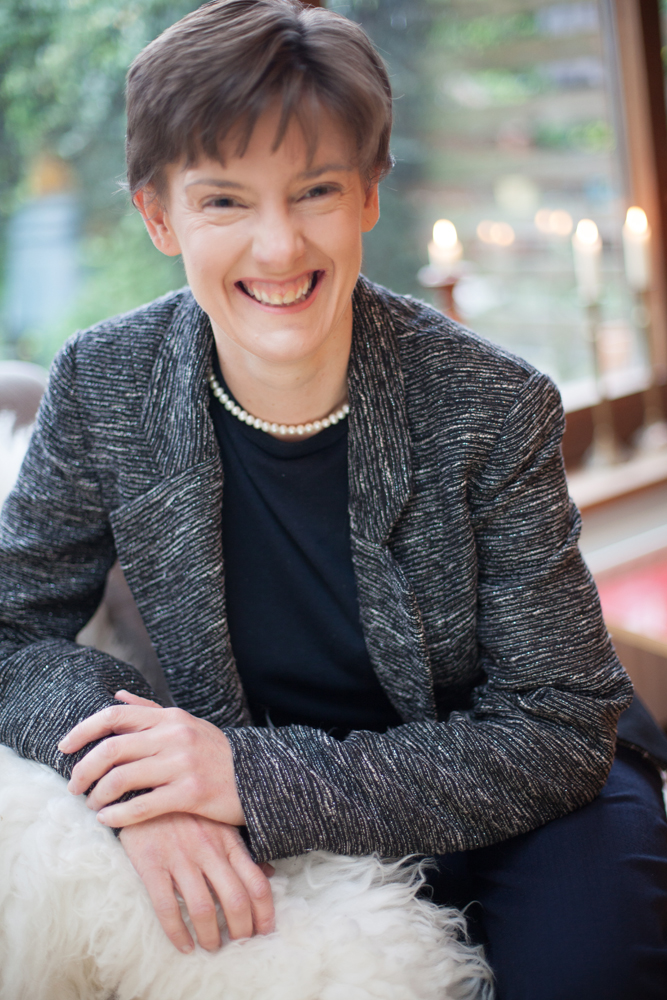 How creative and imaginative are you? While coaching and training pharmacy leaders, I have noticed something interesting. Perhaps you have noticed it too.
Many of us don't think we are very creative or perhaps we believe we are highly logical, evidence based and therefore not imaginative (as if the two are mutually exclusive).
But I have observed a fascinating phenomenon. When it comes to dealing with the unknown such as submitting our first CPD ePortfolio Review, attending Practice Review for the first time or delivering a new service (e.g. a vaccination service for the first time), almost all of us get incredibly creative and imaginative!
We imagine and create rules, beliefs, problems and what if scenarios that are pure figments of our fearful imagination, but convincing nonetheless.
rules e.g. 'CPD cycles must demonstrate a very high level of clinical knowledge.'
limiting beliefs e.g. 'You need to be good with computers to record CPD in your ePortfolio'
problems e.g. 'I couldn't get my login details to work the last time I tried (several months ago)'
ill-informed decisions e.g. 'I probably won't pass Practice Review, so there is no point in trying, so I had better come off the register'
what if scenarios e.g. what if someone has anaphylaxis in front of me and I freeze and I don't remember what to do?'
The real problem is that unless we harness the logical, evidence-based part of our brain, and challenge some of these irrational thoughts, we can quickly descend into believing our unfettered imaginations as truth.
From the examples above, which are evidence based?
To address these and other questions, 4Front will be running three masterclasses in August, in partnership with Pharmaconex, so you can
Discover the facts and the actual standard required

Ask the questions, the answer to which will put your fearful mind at ease

Confidently prepare for ePortfolio Review.
Click here to learn more and reserve your seat.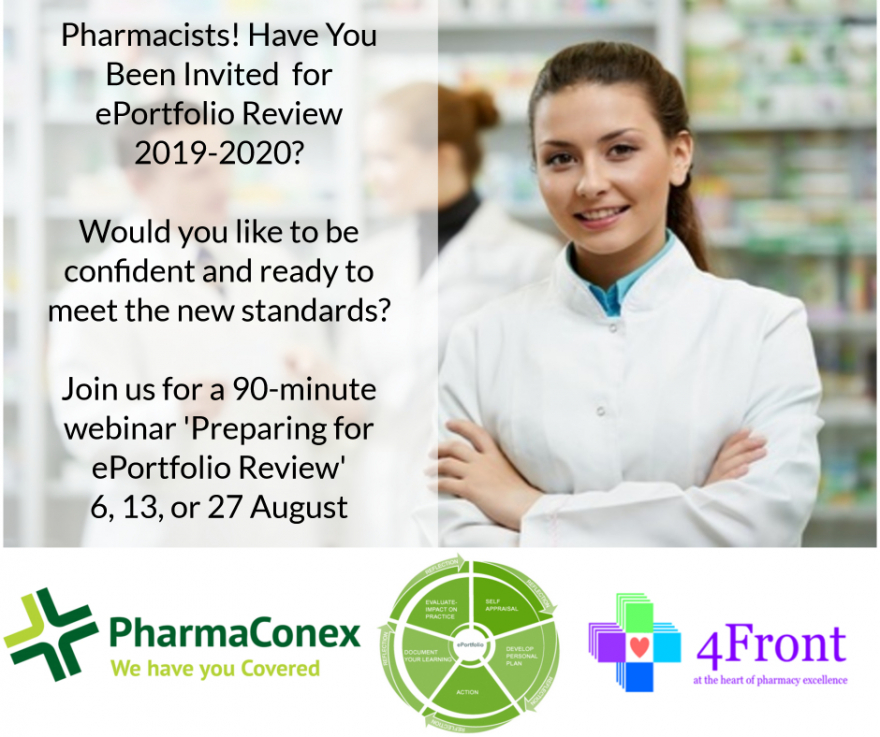 ---
4Front Pharmacy & IPN Community Pharmacy Team of the Year -- McCauley Health and Beauty Pharmacy, Manor West Retail Park, Tralee

Additional CONGRATULATIONS goes out to all the 2019 Winners!
McLernon Computers eHealth and Innovation Award -- Hilton's Pharmacy

Life Pharmacy's Pharmacy Student of the Year -- Glenn Ryan, McCabes Pharmacy

Avene Counter Assistant of the Year -- Rose Cummins, Meaghers Pharmacy

Pharmaton People's Pharmacist of the Year -- Audrey Kingston, Chemco Pharmacy

AYA Vitamins Category Development of the Year -- CarePlus Pharmacy Group

Sudocrem Baby and Child Health Pharmacy of the Year -- Keane's CarePlus Pharmacy, Mullingar

Medi Marshal Community Pharmacist of the Year -- Jonathon Morrissey, Marron's Pharmacy

Teva Superintendent Pharmacist of the Year -- Ola El-Garawany, Lilly's Pharmacy Health Store

JPA Brenson Lawlor Young Community Pharmacist of the Year -- Cormac Black, McCabes Pharmacy

KBC Business Banking -- Innovation and Service Development of the Year -- Mole Scanning Service, Boots Ireland

United Drug Business Development Award (Independent) -- Commons Road Pharmacy, Navan

Clonmel Healthcare Business Development Award (Chain) -- Life Pharmacy Ireland

Pure Pharmacy's Pharmacy Technician of the Year -- Samantha Jones, Keane's CarePlus Pharmacy

GSK Self-Care Award -- Remidi IFSC Pharmacy, Dublin

RB Nurofen Rapid Relief OTC Retailer of the Year -- Boots Ireland
---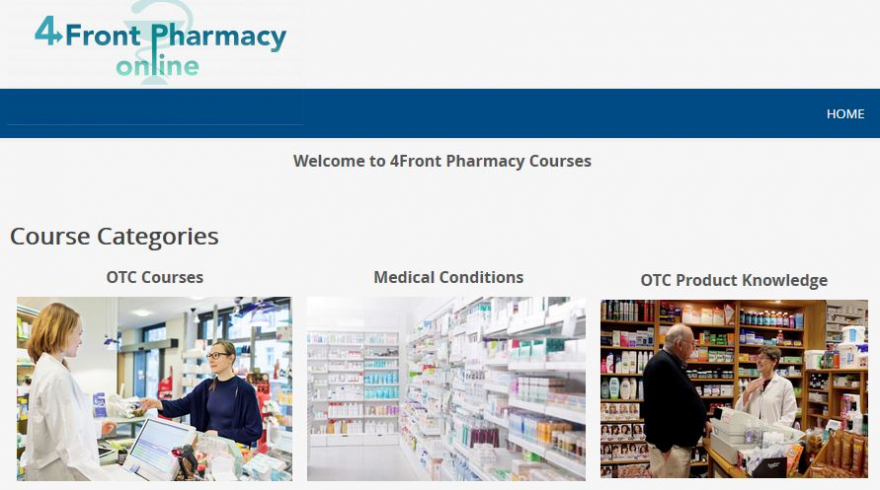 4Front Pharmacy Online OTC Courses focus on the common ailments presenting in a pharmacy setting. Each course will include consultation skills, STEPS® Consultation process, general advice for patients and criteria for pharmacist referral.

Premium members can review, complete assessment and get certificated. Access is fully open.
Basic members may be able to review elements of some of these courses, but will not be able to get assessed or certificated.
All courses are reviewed and updated 12 months following publication.
Over the past year, we have had 100 pharmacists registered and completing courses inside our eLearning Portal. Below is a snapshot of the results participants have achieved as a result of completing the courses.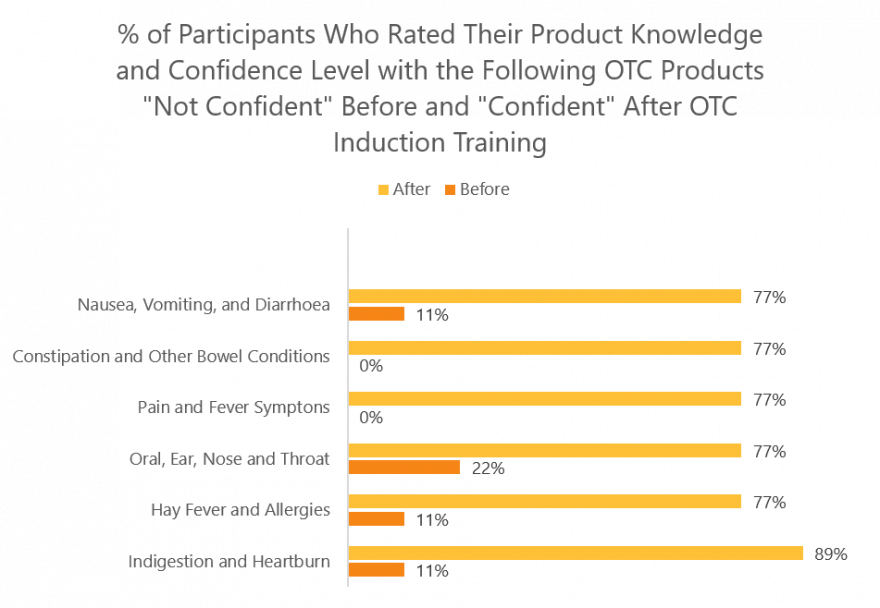 Click here to learn more, register, and get started!
---
Next STEPS Strategy Session

Are you considering hiring a coach to support you on your personal, professional and/or business development journey? Not sure if this is the right step for you? Stop wondering! Find out! Click here to schedule a 40-minute, complimentary, "Next Steps" Strategy Session with Rachel.
---
Connect with Rachel
4Front Founder, Rachel Dungan is a Pharmacist, Trainer and Professional Coach. She has over 20 years experience in hospital and community pharmacy. Her passion is empowering pharmacy leaders and their teams to be and do their best. Contact Rachel at 086 602 5584 Email: rachel@racheldungan.com