4Front OTC Pharmacy Excellence Programme
OTC Pharmacy Excellence Programme
focusing on
Over the Counter Medicine Knowledge and Consultation Skills
PHARMACY EXCELLENCE -- PATIENT SAFETY AND STANDARDS
Did you know that in the June 2013 Which? Pharmacy Report, trained mystery shoppers were given unsatisfactory advice on 43% of pharmacy visits?

Two thirds of the visits handled solely by counter assistants were rated unsatisfactory, compared with a quarter where the pharmacist was involved in the interaction.

How confident are you that ALL of your staff refer appropriately to the pharmacist for every condition?

How much would it be worth to you to be supported to create a cohesive CPD Portfolio that supports you, your team, and your business?
BUSINESS RETURN ON INVESTMENT
Are you looking to move your team from a survival mentality to a business growth mentality?

How would it affect your customer loyalty and average sale if ALL of your staff delivered consistently excellent OTC advice and customer service?

Do you know the long-term value of each pharmacy customer to your business?

What is the cost of one person leaving your pharmacy?

Have you ever sent a staff member on a training course, which they felt was really good, and yet the learning didn't seem to translate into business benefits?
CUSTOMER SERVICE
In your pharmacy business, who provides the first customer experience in your pharmacy? What first impression do they offer?

Are your cosmetic staff or new recruits expected to cover the OTC counter during lunch breaks and holidays? What level of service do they provide to your customer?

Can you afford untrained staff to provide a bad customer experience which causes a customer to "never darken the door" of your pharmacy again?
TIME AND TEAM MANAGEMENT
Pharmacy staff often fall into two camps. They may display:
Over confidence in the ability to handle OTC queries and don't refer appropriately OR

Interrupt the pharmacist for EVERY OTC query due to lack of competence and confidence
A busy pharmacist cannot deal with every transaction and must ensure ALL staff are adequately trained so they listen to the customer and ask the right questions. Do you need support to ensure your staff gain and maintain both product knowledge and the mindset, and skills to identify your customer's true needs?
If you answer YES to any of these questions, click here to apply for your complimentary "Training Needs Analysis" to discover how our "Over the Counter Medicine and Consultation Skills Programme" can be uniquely designed for the needs of your pharmacy team.
Example CPD Reflection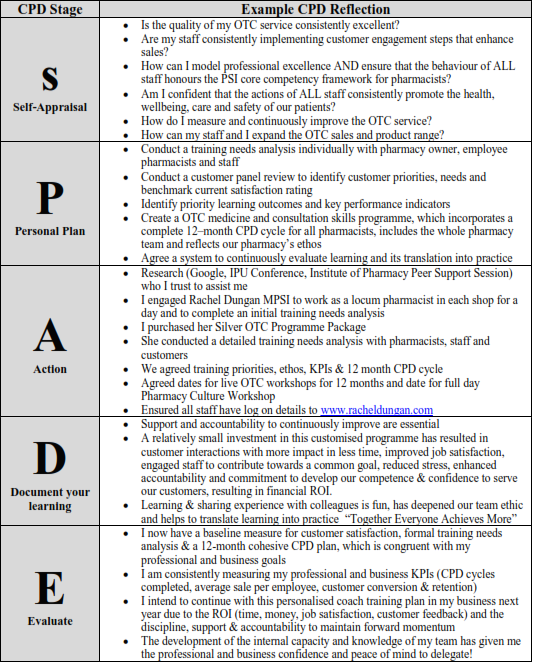 The OTC Medicine and Consultation Skills Programme supports pharmacists in practical behaviours to further develop the core competencies below: