Welcome to 4Front's Newsletter
Each month, we share insightful information about industry trends, resources for building a sustainable business, and opportunities to enrol in programmes and community groups to support your next STEPS towards your goals.
---
A Personal Note from Rachel
Wow! The past month has been action packed! So much to acknowledge and celebrate. As December ramps up towards the holiday season, it is a great time for reflection on the the successes and challenges of past year.
APPRECIATION AND TREPIDATION
A big thank you to 4Front's clients and to three of my 4Front colleagues Kim Gray CPCC, Karen Ahern MPSI MICF and Padraig O Neill MCIMA, for your contribution to rejuvenating the 4Front website. Another big thank you to my mentor Melinda Cohen, of the Coaches Console for her wisdom, guidance and insights into what it takes to create online resources and programmes. Unless you have experienced the 'behind the scenes' work that goes into creating an integrated online resource, you have (thankfully) no idea of the 4 years of trojan work, heart ache and feedback that has gone into creating these resources.
While a huge amount of investment and attention has been invested in getting the website to this stage, the website (and the back-end resources) are far from 'perfect.' However, with a mindset of 'imperfect action beats perfect inaction, but only 100% of the time,' it is with a great deal of trepidation that I invite you to visit http://www.4front.ie/ , to sign up for one of 4Front's resource bundles and share your feedback! With your help, together, we can make 2018 our best year yet.
CELEBRATION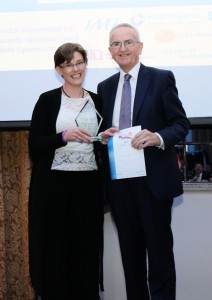 On 25th November, the International Coach Federation (ICF) Ireland Chapter held its 4th annual Coaching Excellence Awards Ceremony. ICF Ireland is a leader in the field of coaching within a healthcare context.
I am especially proud of the recognition and achievement of the Medical Coaching Class of 2016 (which included THREE pharmacists), who won collectively won six awards and that 8 of 12 awards were related to coaching in healthcare.
So what is Medical Coaching?
'Medical Coaching is a unique emotional and mental coaching process. It supports individuals not only cope with a medical crisis or condition, but also supports them create or recreate mental and emotional well-being as a way of life'.
Medical Coaching is particularly valuable skill-set for healthcare professionals to support patients and their carers with the psycho-social aspects of adjusting to and living with their medical condition.
As a Pharmacist and Coach, it is with great pride that I received the ICF Ireland Medical Coach of the Year Award 2017.
Pharmacist Coaches celebrated on the double, as my Pharmacist Medical Coach Colleague Karen Ahern MPSI MICF was named ICF Ireland Health and Wellness Coach of the Year 2017.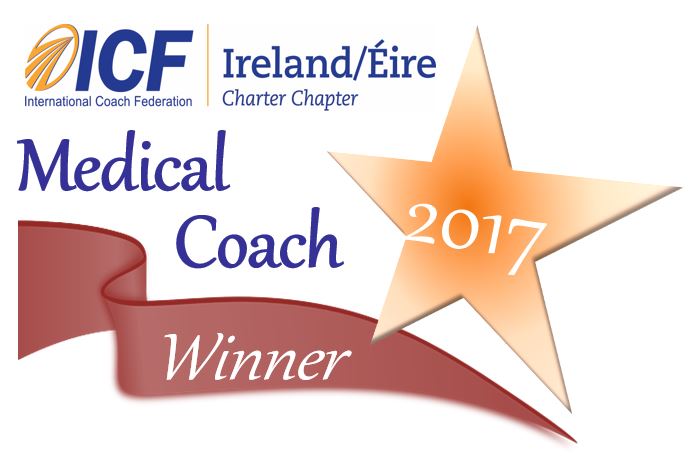 This Award category, which is in its second year, recognises a coach who is committed to personal development, has created a Leadership Coaching Programme for Pharmacists, is mentor coach on the UCC Masters in Personal and Management Coaching, co-leads the ICF Global Health & Wellness Coaching Community of Practice – and is programme coordinator of the Medical Learning Coaching Community – as well as being a huge support to the Irish Chapter. In the words of the Judges, 'This coach's submission speaks for itself. Humble in her way of communicating her achievements, her sense of professionalism and passion shines through.'
ICF Ireland presents the Medical Coach of the Year Award to Rachel Dungan.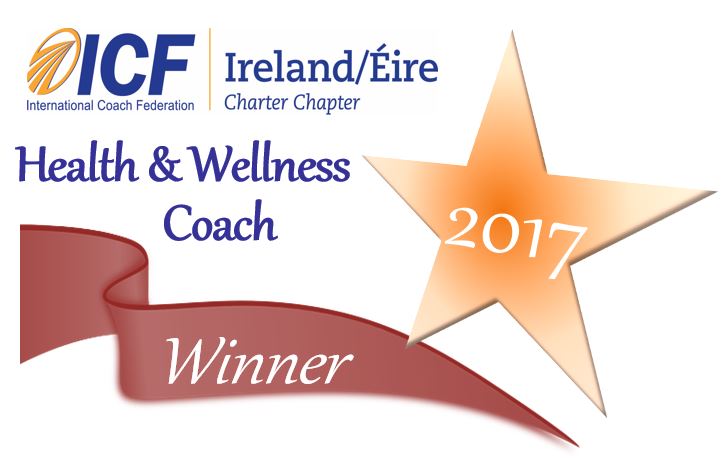 "The Health & Wellness Coaching award is sponsored this year by Irish Life Health. It is awarded to someone who has demonstrated significant commitment to health and wellness of their clients. This coach facilitates a group coaching programme for pharmacists entitled 'Supporting Mental Health in Pharmacy Practice Workshop' and has received excellent feedback from clients in the Transformation Prescription programme. As the judges noted: "Really strong submission in a well represented category."
ICF Ireland presents the Health and Wellness Coach of the Year Award to Karen Ahern.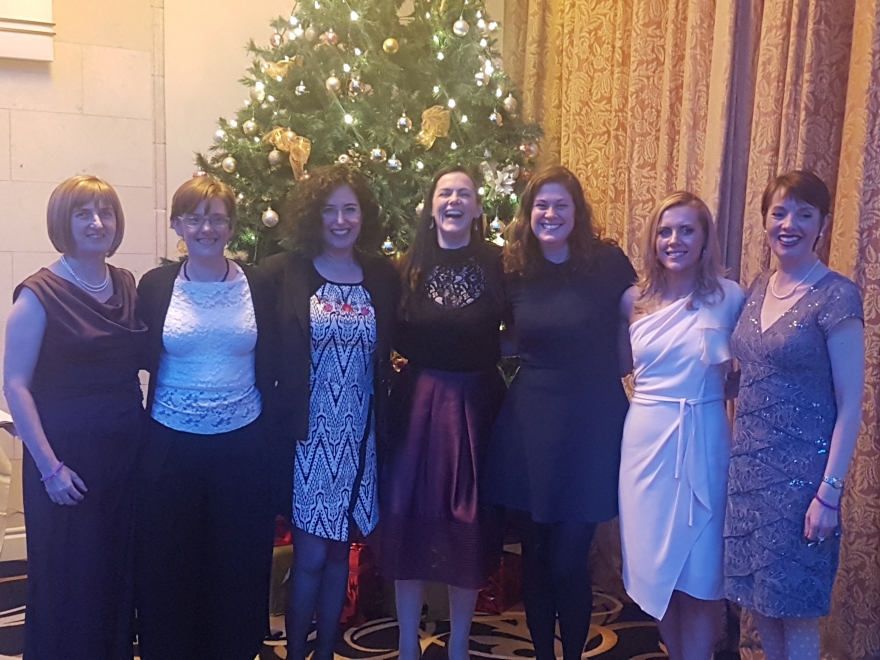 Members of the multi-award winning Medical Coaching Ireland Class of 2016 at the 4th Annual ICF Ireland Gala Awards in Malahide on 25th Nov. From left to right:
Margo Kelly, Nurse and Medical Coach, ICF Ireland Life Coach of the Year 2017. Margo is the first Professional Medical Coach (PMC) to integrate Life and Medical Coaching into her work in Occupational Health in the Irish Health Service Executive (HSE)
Rachel Dungan, Pharmacist and Medical Coach, ICF Ireland Medical Coach of the Year 2017. Founder of http://www.4front.ie, Rachel is the first Professional Medical Coach (PMC) to integrate Life and Medical Coaching into her work as a Patient-Facing Pharmacist, Coach and Trainer.
Shiri ben Arzi, Patient Advocate and Medical Coach Trainer, ICF Ireland Coach Supervisor of the Year 2017. Based in Israel, Shiri is co-founder of the Medical Coaching Institute (MCI) and is the Master Trainer of the Medical Coaching Programme, a graduate programme for healthcare professionals and coaches, who are dedicated to patient empowerment and patient-centred care. CLICK HERE to learn more about Medical Coach Training.
Niamh Gaffney, Accountant, Cancer Survivor and Medical Coach, ICF Ireland President's Award 2017. Founder of http://directionality.ie, Niamh is the first Professional Medical Coach (PMC) in Ireland to use Medical Coaching to support Cancer Survivors to create their 'new normal' post cancer diagnosis and treatment.
Belen Alvarez, Family Carer and Medical Coach, ICF Ireland Rising Star Finalist 2017. Based in Spain, Belen travelled to Ireland in 2016 to complete Medical Coach Training. She continues to be an active member of ICF Ireland's Medical Coaching Learning Community.
Karen Ahern, Pharmacist and Medical Coach, ICF Ireland Health and Wellness Coach of the Year 2017. Karen works with Rachel in http://www.4front.ie, and is one of the facilitators on the IIOP 'Supporting Mental Health in Pharmacy Practice Workshop.'
Karen Willis, Career and Medical Coach, ICF Ireland Career Coach of the Year 2017. Karen is the first career coach in Ireland to integrate career and Medical Coaching. She follows in the footsteps of one of the Medical Coaching Learning Community's expert speakers in 2017, founder of http://cicoach.com/ Rosalind Joffe.
_______________________________________________________________________________________________________________________________
This Month's Articles: Evidence for 'The Coach Approach in Pharmacy Practice'
Structured Pharmacist-Patient Consultations Demonstrate Increased Treatment Adherence in Irish Community Pharmacy
At the beginning of 2017, I provided consultation skills training (based predominantly on Medical Coaching skills) to pharmacists involved in the New Medicines Service Pilot. This is a scheme where pharmacists provide patients who have been newly prescribed medicines for certain long term conditions such as asthma, type 2 diabetes, high blood pressure, high cholesterol, chronic pain etc. with an additional structured consultation (using Medical Coaching skills), 7-14 days after dispensing for the first time. The results of the IPU New Medicine Service (NMS) Pilot show that this service delivered a 9% improvement in adherence in these patients and has the potential to ensure much more effective medicine-taking; improve patients' health outcomes; and bring savings in the health budget. At the launch of the pilot report last Tuesday in Dublin, IPU President Daragh Connolly said it showed that the pharmacist-led intervention "resulted in a positive effect on patient adherence for a total of 85% of all patients in the pilot; the number of patients achieving optimal adherence increased by 9% from 68% to 77%, and 8% were referred back to their GP. I believe these findings support the roll-out nationally of an appropriately funded New Medicine Service".
Dr Gerry Molloy, School of Psychology, NUI Galway, said, "Many people with chronic health problems unnecessarily end up in our struggling A&E departments because they did not take their medications as originally prescribed. A major reason for this is that there is limited support available to people with taking their medications. This is particularly needed when people have been prescribed multiple medications for different health conditions. New strategies to provide structured ongoing support within the context of community pharmacy have the potential to improve the long-term management of chronic diseases. This could reduce the likelihood of many people experiencing the ordeal that is a prolonged visit to the A&E, and reduce the associated unnecessary healthcare costs that are crippling our public health service."
You can download further information by clicking the image below.
4Front's mission is to transform the impact of pharmacist-led teams at the heart of the community though coaching and training. 4Front's partnership with the IPU New Medicine Scheme Pilot is an excellent example, which demonstrates the tangible value and impact of 'The Medical Coach Approach' when pharmacists and their teams dedicate their focus and skill to move from transactional to transformational consultations at the pharmacy counter. Person by person, this is how we demonstrate making a difference, build customer loyalty and transform lives.
For those passionate about enhancing their ability to deliver truly person-centred care and leveraging the impact of their own consultation skills, Medical Coach Training could be a great fit for you. Building on the Medical Coaching Institute's inaugural live Medical Coach Training in Ireland in 2016, the second comprehensive Professional Medical Coach Training will be held in Ireland in two modules, in March and June 2018.
In my experience, whether you are a healthcare professional or a coach, this life-changing, comprehensive training provides a FANTASTIC opportunity to leverage your CPD in 2018 on something that you will not just intellectually 'get', but also IMPLEMENT in practice, that will make a profound difference to you personally, professionally and in business.
For healthcare professionals, the skills you learn (AND PRACTICE) will also dramatically enhance your ability to provide structured ongoing support to help patients to improve the long-term management of their chronic diseases. CLICK HERE for more details.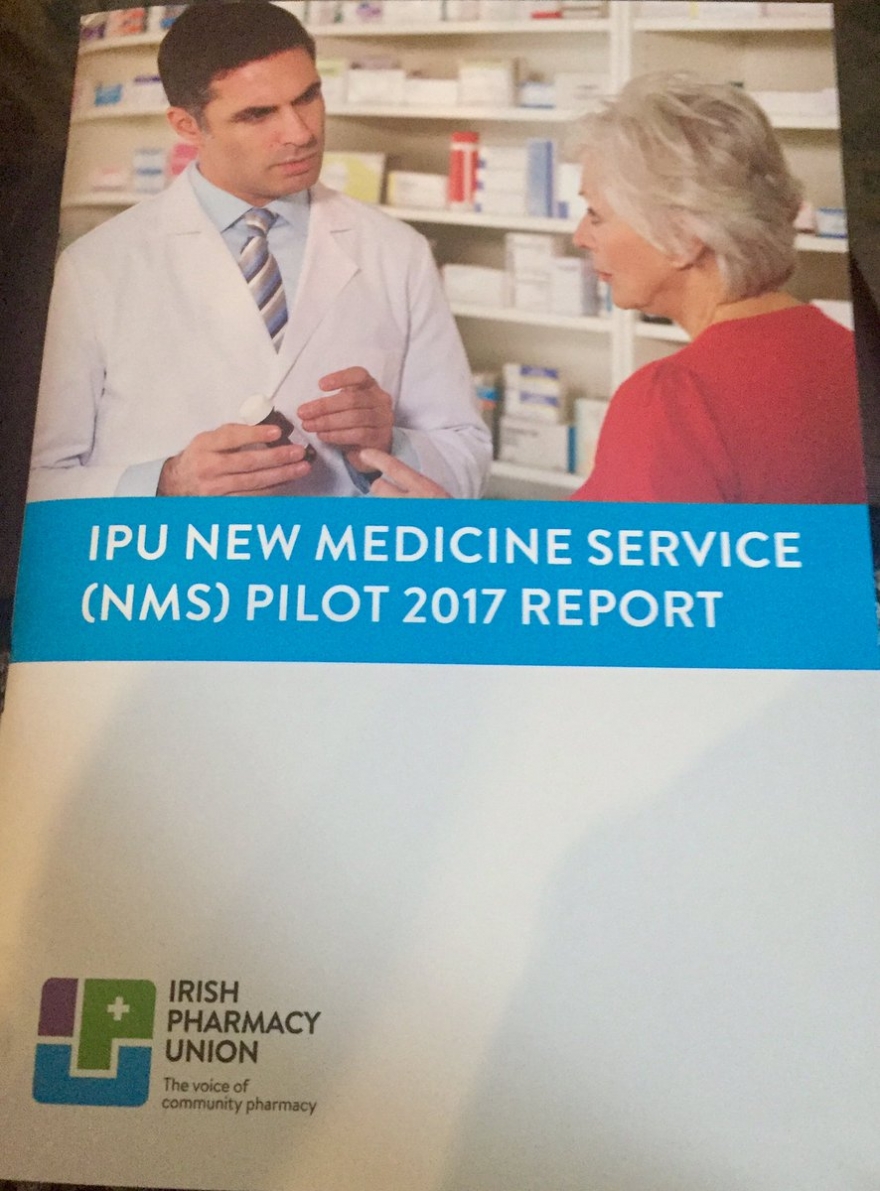 ---
Resources to Share
Keep up with the latest conversations on Wellness, Health and Medical Coaching. Enjoy watching the ICF COMMUNITY OF PRACTICE WEBINAR: Coaching Clients with Chronic Medical Conditions. We had a brilliant panel discussion and Q&A with outstanding coaches from around the world. To review the recording use this link, register and gain immediate access and learning! https://register.gotowebinar.com/register/1104861138093174786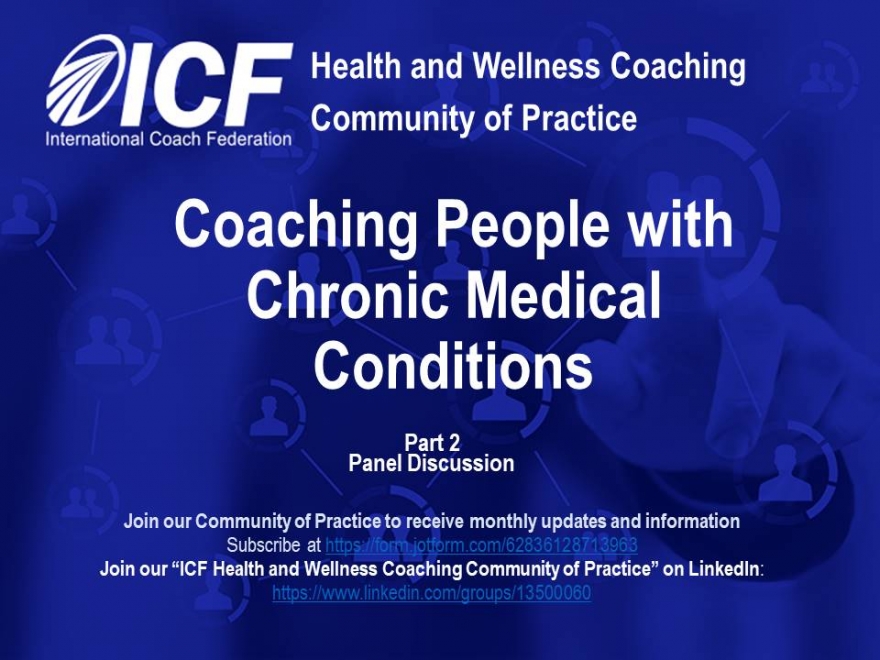 In 2017, Rachel was elected as co-lead of ICF Global Health and Wellness Coaching Community of Practice, which currently has 370 international members. The ICF Global Communities of Practice (CPs) are virtual groups of coaches interested in a specific topic area. These communities are designed to provide a platform for sharing best practices, emerging trends, tools and tips among CP memberes to advance their professional development. Each CP hosts four live webinars a year. Membership is FREE and open to coaches and healthcare professionals with an interest in person-centred care. ICF and non-ICF members welcome.
Join the Health and Wellness Coaching Community of Practice to receive monthly updates and information.
Subscribe at https://form.jotform.com/62836128713963
Join our "ICF Health and Wellness Coaching Community of Practice" on LinkedIn:
https://www.linkedin.com/groups/13500060
---
Medical Coaching Learning Community TIME SENSITIVE Upcoming Events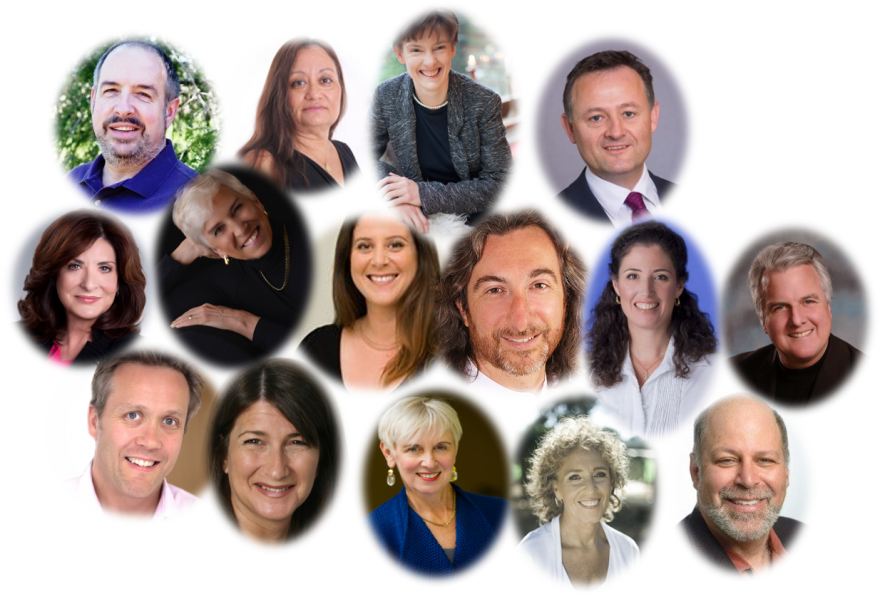 A colleague of Angela Dunbar, (ICF Ireland's Medical Coaching Learning Community Expert Speaker March 2017), Gill Smith, (previous chair of the Association for Coaching 2013-2016), has just published a book 'Because you Can' which is a partly autobiographical / partly self-help on coping with advanced cancer. It's very much a patient's experience of dealing with the medical profession. Here's a link to the book: www.because-you-can.com.
Gill is hosting a FREE webinar called 'Coaching and Cancer' through the Henley Business School next Wednesday 13th December at 11.00am London/Dublin time. This topic is very much aligned with Medical Coaching, and using a coach approach to deal with the psycho-social aspects of living with a condition, which has a terminal diagnosis. Webinar host Gill Smith has been diagnosed with stage 4 secondary breast cancer and has recently developed brain metastases. Her medical team do not expect her to survive much longer, but she hopes to outlive all expectations.
Webinar Title: 'Coaching and Cancer'
Date 13th Dec 2017
Time: 11am London/Dublin time
Registration link: https://www.henley.ac.uk/events/coaching-webinar-coaching-and-cancer-gill-smith
__________________________________________________________________________________________________________________________________________________________________
To facilitate the holiday season, this month, in the Medical Coaching Learning Community, our regular December session has been postponed by one week, to Wed 3 Jan.
You are invited to Join Speaker Rachel Dungan ACC on Wednesday 3rd January 2018 1930-2100 Dublin/London Time as a member of the 12-Month Online Medical Coaching Learning Community.
---
Share this Resource
If you like these resources.... spread the word with colleagues you know who share your interests.
If this email has been forwarded to you, be sure to sign up to 4Front's Community, by registering for one of 4Front's resources by CLICKING HERE
Connect with Rachel
4Front Founder, Rachel Dungan is a Pharmacist, Trainer and Professional Medical Coach. She has 20 years experience in hospital and community pharmacy. Her passion is empowering pharmacy leaders and their teams to be and do their best. You may recognise Rachel as an IPU Academy Tutor, IIOP Peer Support Pharmacist or Webinar Facilitator. Contact Rachel at 086 602 5584 Email: rachel@racheldungan.com Website: http://www.4front.ie/our-team/